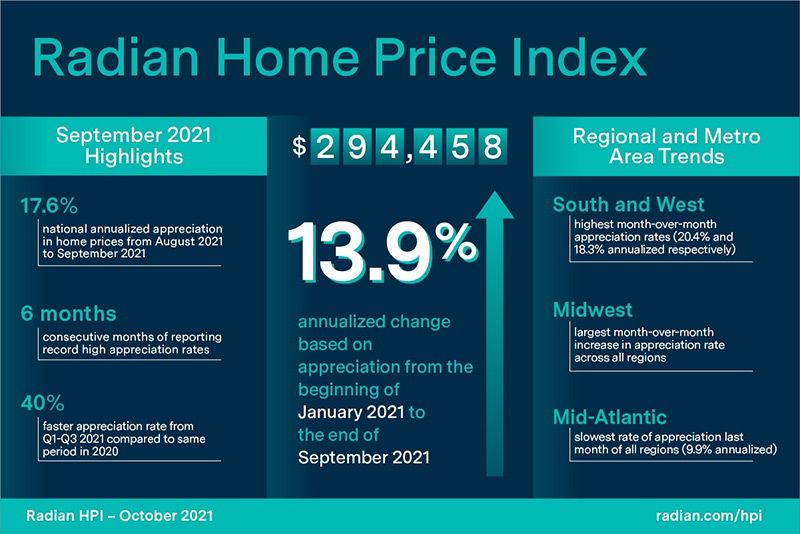 The median home price for single-family properties and condos has increased to $294,488. And since the pandemic hit in March of 2020, there's been significant property appreciation across the board, with home values increasing, on average, by more than $41,000, according to the latest report from Radian.
A lack of inventory is helping to drive prices up, as the number of homes listed in the U.S. for the month were at a record low for any ninth month over the last 13 years.
Other findings:
– All regions reported faster appreciation than last month
– The strongest performing regions are the South and West, with growth occurring for three consecutive months
– The Midwest, however, had the highest month-over-month increase in appreciation rate (+242 basis points)
– September had the fastest, annualized one-month appreciation rate since 2020
– Among the 20-largest metropolitan areas of the U.S, more than half (13) posted faster annual price appreciation in September compared to last month
The takeaway:
"Given the rapid rise in home prices over a relatively short period of time, the Radian HPI is constantly mining the data to find signs of a shift in current housing strength—and so far, it seems to be heading in one direction," said Steve Gaenzler, SVP of Data and Analytics, in a statement. "While there are some indications that affordability may be starting to place strain on certain homebuyers, the limited supply is a strong support for home price growth."
Gaenzler added that, "ultimately while bidding wars may be reducing in frequency, sellers are still receiving above list price offers in many situations."
Questions? Contact Curtis Helton Today!